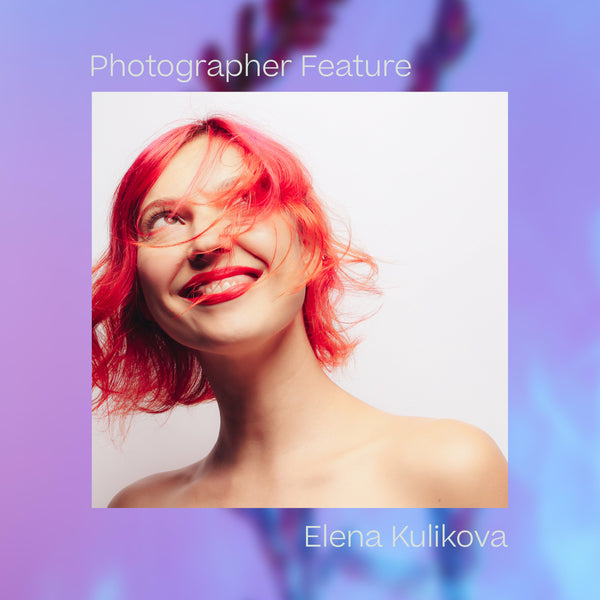 Photographer Feature: Elena Kulikova
Our ceramic bong, the Hexagon, is meant to be a show piece. Designed to be left out and displayed, from the start we have focused on making sure our photography helped share the design intention. We originally got a chance to work with Elena several years ago, and since then she has done an instagram take-over for us and helped us launch our first every color update for our ceramic bongs.

Though we know her for her photography, she studied biology in Vancouver, then jumped on a plane and lived in Amsterdam where she "perfected the art of
balancing multiple bags of groceries while riding a bicycle."
While in Europe, she continued to hone her craft as a photographer and through modeling was about to travel throughout the EU, including getting the chance to assist Craig McDean in Paris.
What stood out to us about Elena is her ability to bring a vision to life, all we needed to do was step out of the way. During her long career she has handled styling, production, art direction, and directing. For our launch we really wanted to bring a little of her own aesthetic to the sets she designed.
Elena has an amazing eye for lighting, bringing a set to light with subtle gradients, soft shimmers, and touches of smoke.
"
immersing my subjects, whether people or natural elements, in pools of colored light, finding different expressions of the form by altering the play of colors across bodies. I hope my art will create a dream-state, however small or momentary, for viewers to discover and witness something with a fresh perspective."
We were also drawn to Elena's work with florals, she shops at the local market and brings together sumptuous stages for her product photograhy. Perhaps it was her time in Hawaii that developed her keen eye for color, and use of florals, but we love that when asked about her time on the islands she said, "
I landed beneath the rainbows of Hawaii where I learned to wield a machete to open fresh coconuts, and scuba dive with sea turtles."
"Much of my inspiration comes from my love for all things found in nature, especially flowers."
Her skill in Art Direction is clear, at one point working as the Art Director on multiple brands at Future State Brands, a global consumer goods and marketing company with a mission to lead cannabis from the black market to the supermarket.
What Inspires you?
My photographs are my dreams and explorations— they are windows for the viewer into my world, which is a world of love, creativity, beauty, sensuality, visits to other realms, and personal discoveries of being human.
My subjects are people, with their simple exteriors and infinitely complex interiors. I'm inspired by the depth of human beings, their and my personal inner transformation, self exploration in search of the divine.

I am equally inspired
by nature - it has always been my space for play, wonder, and fascination as a child which was lonely because my mom was strict and didn't allow me to have many friends. The iridescence of butterflies fascinated me, flowers were my dolls to play with because we were poor, ladybugs were my pets,
I wondered how rocks were made, and how all the 'other' creatures experienced this reality. Nature loves courage, and I often found myself in strange predicaments climbing high into trees or strange dark caves. Though nature is infinitely inspiring, my loneliness as a child developed hightened awareness to my surroundings, a depth of emotions, curious senses, internal investigations and a wild imagination.
Later in my 20s I was introduced to psychedelics while living in Amsterdam and that opened my mind to a world of abstract transcendental dimensions. These experiences inform my photographic investigations and I want to share all these dreams, visions, memories and discoveries with you. "A work of art is above all an adventure of the mind."
Working with brands like Sephora, Foria, Ole Henriksen, Pepsi, Urban Outfitters, Nordstrom, BeautyCounter, Prima, MedMen, Interscope Records, and Vice, we are thirlled to have gotten the chance to have her apply her craft to our Hexagon ceramic bong.

Focusing on photography and film for cosmetics brands, cannabis, wellness brands, beauty, portraits, and also underwater work, you can find Elena in Los Angeles or hoping on a plane for client work.
All photography on this post was by Elena and used with her permission.
For further information please head to her website https://elenakulikova.com/
You can also say hello on Instagram.